Our first short film!
Co-Production premiere: Out of my window flies a dream
In joint production with Theaterhaus Frankfurt and together with ELLE KOLLEKTIV we are creating a fantastic world of magical beings, when Marie encounters her imagination. Out of my window flies a dream – a theatre show for small and tall people with and without hearing abilities age 4+.
concept, directing and acting: Elisabeth-Marie Leistikow, Daniela Krabbe
stage design: Louis Panizza / Johannes Werner / Stephan Eith
production management: Goran Lakicevic
choreographic support: Susanne Schyns
Marie is sitting at home to learn. But she would rather prefer to look out of the window to dream herself away. Because so many exciting things are happening outside – especially when the imagination literally stops by to carry Marie in a wondrous world.  A world where everyday things are transformed into fantastic magical beings and Marie is discovering magical powers.
A story about waiting, daydreaming and imagining – told with few words for deaf and hearing children.
Premieres on 17. September, 10 AM at Theaterhaus Frankfurt.
Further performances: 18. September, 10 AM; 19. September, 11 AM & 20. September, 11 AM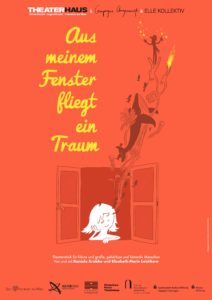 The Blue House on tour!
Even if delayed due to the Covid-19 pandemic, The Blue House can finally travel around! We will perform on 17th May, 11 AM and 3 PM and on 18th May, 11 AM in front of each 25 spectators at Theaterhaus Frankfurt according to current hygienic standards. The show on 17th May at 11 AM will also be broadcasted via livestream on YouTube! So press your noses on the screens and join us in the blue House!
QUARANTINE STORIES ON THE PHONE (EXTENDED UNTIL 3

rd

 MAY 2020)
Stories for all the children that have to stay home right now! Inspired by the phone stories of the italian author Gianni Rodari, I'm telling stories via phone or webcam, in German, German Sign Language, Italian or English. Everyone is invited to listen and watch. If you are interested in a slot you can make a reservation easily. Just send an email to krabbe@compagnie-augenmusik.de. I will start on the 18th of March and go on until 20th of April every Monday, Wednesday and Friday from 11-2pm and 4pm-7pm. Each story lasts approximately 10 – 20 minutes. I read every children's literature book I have at home! Even grown ups are invited to make a reservation for themselves and enjoy a tale.
This is my gift for each and every child that has to stay at home in these difficult times. But as you all may know, the lockdown is particularly hard for freelancers because our income sources have diminished. If you and your children liked the stories please feel free to give as much as you want.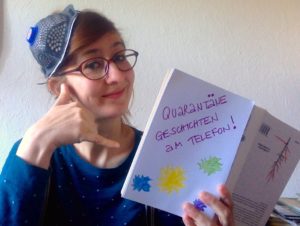 Cancelled: We can do everything! 2020 – Holiday theatre project for children with hearing disabilities age 6+
After much consideration and with a bleeding heard, we decided to cancel the theatre project during the Easter holidays. We are following the recommendations of the head of culture and the health department Frankfurt. To fight against further spread of COVID-19 and to protect at-risk groups, we have to act as responsibly as possible.
Please stay safe and healthy!
We can do everything! 2020 – Holiday theatre project for children with hearing disabilities age 6+
During the Easter Holidays of 2020, 12 children with and without hearing disabilities from the Rhein-Main-Area will get the chance to create a theatre play without words. We will experiment with theatre forms that focus on movement, dance, sign poetry and clowning. With these techniques we will create our own version of the story "The Pleiades".
The theatre week will be bilingual (sign and spoken language) and conducted by Daniela Krabbe.
Direction Daniela Krabbe
Rehearsal Period
Friday, 3th April 2020 3-5pm (Get to know each other)
Saturday, 4th April till Friday, 10th April 2020, 10 am – 3 pm (Rehearsal even on Sunday)
Supported by Kunst für Kinder! e.V. and Theaterhaus Frankfurt
Registration via E-Mail to krabbe@compagnie-augenmusik.de | www.compagnie-augenmusik.de
Here you can find an article from Kulturkoffer Hessen about our work from the last year.

New Play, New Luck!
PREMIERE The blue house – Clown theatre for children with and without hearing disabilities 4+
Our premiere of The Blue House was scheduled for 20th of September at the worlds best Theaterhaus Frankfurt!
A clown enters the stage and begins to build her new home. She thinks, measures, marks out, tapes, tests the rooms and spreads her belongings – how lucky she is! Still something feels missing… all by herself and only with her feelings to accompany her, an adventure through the jungle begins. But isn't it also fun to be your own best friend?
(c) Katrin Schander
A story without words simply told through the language of humour and the body for children with and without hearing disabilities – A tale about the bravery it takes to be alone and the fun one can have by discovering and learning how to love ones self.
Concept, Play: Daniela Krabbe | Direction, Dramaturgy: Ivan Matiushkin, Asta Nechajute | Light, Stage: David Schecker | Duration: ca. 50 Min. | Families, Children's facilities: age 5+ | Schools: Classes 1-8
Supported by Kulturamt Frankfurt am Main and Hessisches Ministerium für Wissenschaft und Kunst
See you on tour all around the world!
We can do everything! 2018 – The Movie
Over a year ago, 10 wonderful children performed "The Snow Queen" at the Theaterhaus Frankfurt. During rehearsals we were accompanied not only by "Sehen statt hören" (BR) but also by the filmmaker Otmar Hitzelsberger who created this great short film about our project:
We can do everything! – The shoes that were danced to pieces (2019)
Theatre project for children with hearing disabilities age 5+
For the second time, 16 children with and without hearing disabilities got the chance to create a theatre play during the Easter holidays together with theatre creator Daniela Krabbe and theatre teacher Shabana Saya. Based on the fairytale "The shoes that were danced to pieces" we explored alternative theatre forms such as movement, mime theatre, sign language poetry and shadow theatre.
Direction/Organisation: Daniela Krabbe
Theatre Pedagogic Assistance: Shabana Saya
Organizational Assistance: Lucy Weber
Technical support: Alexander Götz
Rehearsal period: 12th till 19th of April 2019
Presentation: 20th of April 2019, 2:30pm at Theaterhaus Frankfurt
Promoted by Aktion Mensch and Kulturkoffer Hessen (Hessisches Ministerium für Wissenschaft und Kunst)
Supported by the Kunst für Kinder! e.V. and Theaterhaus Frankfurt